Metal Testing Quality Control Services
With years of experience in the material and metal testing industry, Verichek has the knowledge and training power to help you fulfill your quality control needs. Whether it is training staff, providing OES calibration and maintenance, creating procedures, performing audits or providing certifications, we can help you create and maintain quality control.
What ANAB Certified Means to You?
ANAB is recognized internationally in accrediting organizations to ISO/IEC 17025.
Working with an ANAB-accredited laboratory, you know you that the laboratory has consistent operations and produces precise, accurate test and calibration data.
When you work with an ANAB accredited laboratory, you know:
The laboratory has consistent operations.
The laboratory produces precise, accurate test and calibration data.
The laboratory employs highly trained industry experts who meet rigorous technical requirements.
PMI (LIBS, X-RAY, OES) & OES TRAINING
Verichek Technical Services, Inc. offers both in-house and on-site ANAB Certified training options, which provide a refresher for basic spectrometer operation.
Training is designed to cover the general operation of an instrument along with best practices to ensure operational excellence. They also teach your operators to utilize your instrument to its full capabilities and troubleshoot and conduct minor repairs reducing any downtime of the instrument to ensure accurate test results.
Equipment Calibration & Maintenance
PM/Calibration services will reduce the likelihood that your spectrometer will malfunction or provide inaccurate testing data that may cause delays in the quality inspection process. This will also provide security to you and your customers that the products are being produced to the desired specifications eliminating the possibility of any product recall.
Without performing regular maintenance and calibration, you are potentially damaging the quality of your operation and reputation with your customers. Learn More About Our Calibration & Maintenance Service
Procedures
Verichek is an ISO17025 accredited laboratory for testing and calibration.  We live and breathe quality.  Using our expertise and knowledge, Verichek will set up the procedures to help your team and instrumentation run efficiently and assist in training new hires. It can also extend the life of your instrumentation. Verichek can provide procedures for Instrumentation cleanings, Maintenance, Testing as well as troubleshooting and repair. We can work with you to develop customer procedures specific to your process and application.
Audit
Auditing the procedures to confirm their accuracy and implementation will also add to the effectiveness of your testing methods, streamline your processes and prepare you for your next Audit. Verichek can help, as a third-party auditor, and review the procedures for your metal-testing instrumentation.
Certification
Need help with becoming ISO accredited? Verichek has been ISO 17025 accredited in Calibration and Testing since 2001. We can help set up your facility with the proper Work Instructions, Test Methods, and auditing so your facility can become ISO compliant.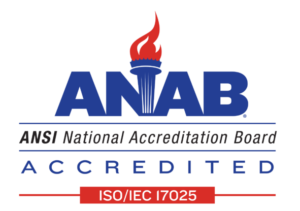 Training Request