Why It is Important to Maintain and Calibrate Your OES
PM/Calibration reduces the likelihood that your spectrometer will malfunction or cause delays in quality inspection in your company.
OES are instruments that utilize the electromagnetic spectrum to analyze metal content and determine levels of elements such as carbon, phosphorous, manganese, sulfur, and silicon. These analyses assist companies in identifying the composition of metal alloys so that they can make the correct decisions about which material will work best for different needs. This identification process is often referred to as Positive Material Identification (PMI).
Without periodic maintenance of the spectrometers, companies run the risk of experiencing unexpected equipment failures that can lead to production issues. Ultimately, unexpected downtime is both costly and causes loss of quality control.
Your OES is made of various systems, such as:
Electronic excitation
Optics
Energy Management
Protective Devices
Computer Hardware and Software.
Depending on your specific tool, there could be other systems involved as well.
As the collection of system components move through various life cycles, the chance of a failure increases.
If each component is not working properly, the spectrometer can be in a failed state, returning inaccurate readings without you having any obvious indications that the readings are wrong, or at least inaccurate.
All equipment requires some level of PM; the more specialized your equipment is, the more vigilant you have to be about ensuring it continues to function as intended. Since spectrometers provide analysis of the composition and properties of different materials, you need them to operate at an optimal performance level, so you can make the right decisions.
There are four primary factors that contribute to the degradation in your OES's performance.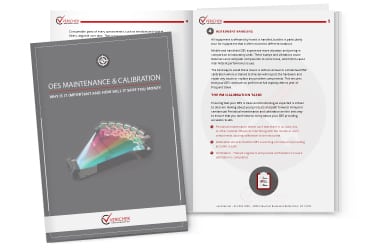 OES Maintenance & Calibration:
Why is it important and how will it save you money
Environmental Factors
Even in a controlled environment, equipment will have small shifts in performance. For OES, environmental conditions contribute to significant wear and tear. Factors like dirt, dust, humidity, and general grit will affect how the tool performs. Cleaning both the inside and outside of your OES unit annually or semiannually reduces the risk of unscheduled service and missed opportunities within the organization.
Cleaning the inside of the instrument also maintains quality light grading for accurate analysis results. The optical system should only be cleaned by a factory-trained service technician because of the fragility of the part and the high cost associated with replacing a broken optic component.
Trace Element Analysis
OES instruments used to analyze light elements such as carbon, phosphorous, sulfur, or boron, need periodical maintenance on either an annual or biannual basis so that the instruments continue to provide accurate data.
If you need the carbon difference to be between 316 and 316L materials, then you don't have room for your spectrometer to be out of range before it even starts the analysis.
If you are trying to differentiate high strength, low-alloy steels on manganese and carbon content along with phosphorus, sulfur, and silicon, you need your machine to be running at optimal performance to ensure you have reliable results.
Consumable parts of every spectrometer, such as windows and optical fibers, degrade over time. That is just part of regular wear and tear. As a result, the amount of light that can travel through the optical system slowly diminishes, changing the analytical results ever so slightly.
The longer the degradation goes on, the larger the gap between accurate results and results from worn parts. Periodical maintenance ensures the optical system is carrying the greatest amount of light through the system.
The Instrument's Age
All of the OES systems contribute to the accurate analysis of metal. As the collection of the system components move through the various life cycles, the chance for an unplanned failure increases over time, even if you do not use your OES. Unless each component is working properly, the spectrometer can be in a failed state, even if it is still operational.
The areas of importance include:
The argon system that dries out and cracks over time, causing leaks and poor analytic performance.
Computer hardware voltage that is a primary indicator of a hardware component reaching the end of its useful life.
The optical system that degrades over time because of use and environmental conditions.
Vacuum systems that aid the pass through of UV wavelengths such as C, P, &S within the optic.
Instrument Handling
All equipment is affected by how it is handled, but this is particularly true for equipment that is often moved to different locations.
Mobile and handheld OES experience more vibration and jarring in comparison to laboratory units. These bumps and vibrations cause fasteners and computer components to come loose, which then cause intermittent performance issues.
The best way to avoid these issues is with an annual or semiannual PM/calibration where a trained technician will inspect the hardware and repair any issues or replace any problem components. This ensures that your OES continues to perform at full capacity after a year of frequent travel.
Does Your Spectrometer Need Serviced?
OES Calibration & Maintenance Tasks
Ensuring that your OES is clean and functioning as expected is critical to decision making about your products and path forward. Annual or semiannual Periodical maintenance and calibration are the best way to ensure that you don't have to worry about your OES providing accurate results.
Periodical maintenance makes sure that there is no dust, dirt, or other outside influences interfering with the results or worn components causing calibration to be inaccurate.
Calibration ensures that the OES is working correctly and providing accurate results.
Verification – Trained engineers will provide verification to ensure calibration is completed.
There are specific tasks that are req1uired for a successful periodical maintenance and calibration:
Conduct general cleaning both inside and outside of the instrument.

Cleaning the inside of the instrument also maintains quality light grading for accurate analysis results. While reducing particulate build up on sensitive electronics, that can cause overheating and component failure.
Cleaning the outside of the instrument reduces the amount of dirt and debris that can contaminate samples and be pulled into the fans, clogging filters and endangering components.

Create a copy of the software in case of computer failure.

When you are dealing with computers, it is always best practice to have a backup of your software, so it can be re-installed if needed.

Clean and polish the optical system while paying special attention to windows and any fiber optics themselves.

Cleaning the windows and optics ensuresmaximum light transfer from the sample to the detectors. Without which the instrument will not hold a stable calibration.

Check the light intensity and ensure that the light intensity is maintained or increased in luminance.

Light intensity and luminance is important because it is the most important factor by which the instrument will determine the amount of any given element.

Calibrate the instrument by analyzing several certified standards and making adjustments to alignment and the calibration curves.

This will ensure that the instrument is operating within specification and that the results can be relied upon as true and accurate.

Affix calibration sticker to instrument

This allows auditors and employees to verify that your instrument has been properly maintained and calibrated.
These tasks are required to earn and maintain the ISO 17025:2005 accreditation certificate.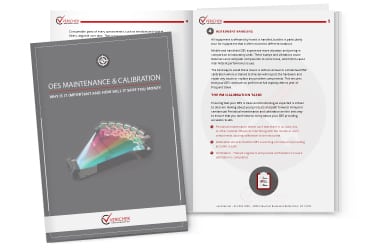 OES Maintenance & Calibration:
Why is it important and how will it save you money
Verichek's Periodical Maintenance/Calibration Services
We send technicians to your site to perform periodic maintenance and calibration services across the United States and Canada on either an annual or biannual basis. The main benefit is that you get a front row seat to the entire process so that you can gain a better understanding of how the equipment works.
An added benefit from an on-site service visit is that while our technician is there, you can include a scheduled on-site training for your personnel on how to better maintain your instrument or as a refresher course for both new hires and veteran users.
If you are looking to have maintenance and calibration performed on a mobile or handheld spectrometer, you might prefer sending the instrument to our main office.
There are three main advantage of sending the tool to us:
The technician performing the process is in a controlled environment
Has direct access to parts
Has extra support if an issue arises
There is no added cost for the engineers travel.
Once we are done, we will give you a service report that details what we did and notes about future needs for the spectrometer, which also doubles as a receipt.
Does Your Spectrometer Need Serviced?